BMW used this week's 2018 Paris auto show to unveil a new 3-Series, the nameplate's seventh generation. The new car is bigger and bolder than ever, and BMW is confident it will set the new standard in sport sedan qualities such as ride and handling when it hits showrooms next March. We can't wait to find out.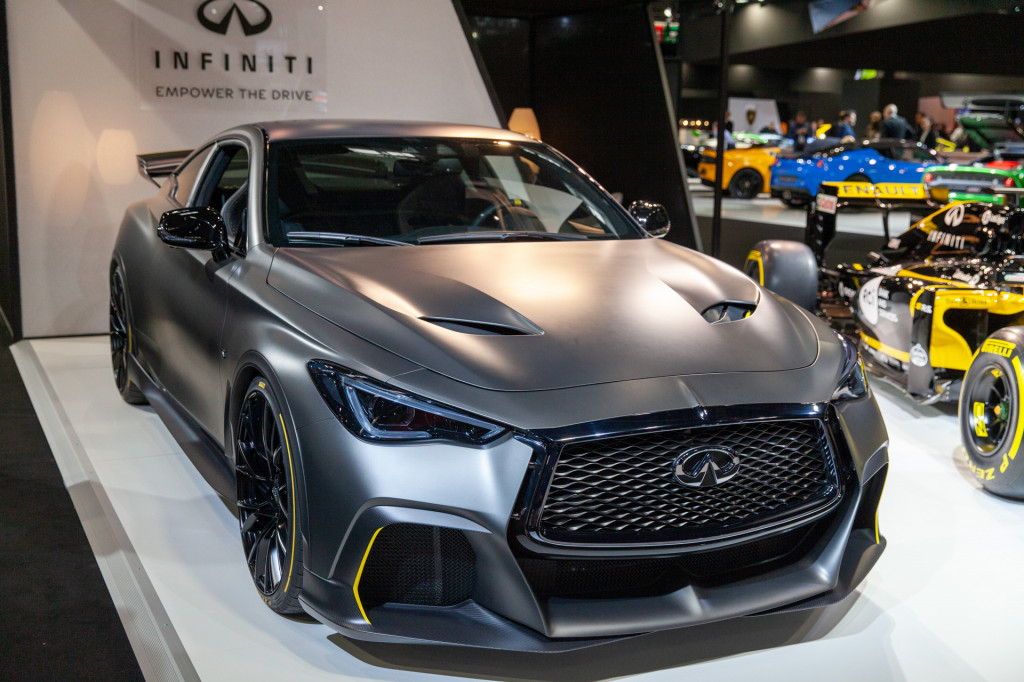 Infiniti Project Black S Concept, 2018 Paris auto show
Another star of the show was Infiniti's Q60 Project Black S. The 563-horsepower beast features a powertrain and aerodynamics with Formula 1 technology, and while it's officially a prototype being used to test new technologies we've had several strong hints that a production version is coming.
Ferrari Monza SP2, 2018 Paris auto show
As is often the case at major auto shows, the Ferrari stand was jam-packed in Paris. There was actually a good reason to battle the crowds this time as Ferrari had a pair of stunners on display in the form of the 812 Superfast-based Monza SP1 and SP2. Sadly, there are plans to put just 500 of them into production.
2019 DS 3 Crossback
One of the star French cars on display was the new DS 3 Crossback. Not only does the compact crossover SUV look good, but it will also offer an electric powertrain good for 183 miles of range.
Peugeot E-Legend Concept, 2018 Paris auto show
Another French favorite was the retro-tastic Peugeot e-Legend concept. It's a self-driving coupe designed as a fresh take on the French marque's brilliant 504, and there's 455 hp on tap in case you want to take over the driving duties and have some fun.
2019 Mercedes-Benz AMG A35, 2018 Paris auto show
Mercedes-AMG used the Paris auto show to introduce the A35 hot hatch. The car is the first member of a new 35 series and features a 2.0-liter turbocharged engine with 302 horsepower, which makes it almost as quick as the outgoing A45. As for the next A45, we hear it will come with a new eight-speed dual-clutch transmission and over 400 hp.
2019 Audi R8 LMS race car, 2018 Paris auto show
Audi showed its 2019 R8 LMS race car in GT3 spec. Why an auto show appearance for a race car? Because the latest racer features the updated design pegged for the full Audi R8 range.
2019 Lexus RC, 2018 Paris auto show
The updated 2019 Lexus RC coupe was presented at this week's Paris auto show, though sadly the RC F and rumored RC F GT versions weren't on display. The updated RC sports a sharper look with influences taken from the LC flagship coupe, plus a few tech updates in the cabin.
2019 Audi Q3, 2018 Paris auto show
Audi unveiled a new Q3 in the French capital. The new model has received a sharp new look, increased proportions, and loads of tech in the cabin, and should prove a hit in the market when it reaches showrooms early next year.
2019 Vinfast Lux A2.0, 2018 Paris auto show
In Paris, we were treated to the debut of a new car brand from Vietnam. Called Vinfast, the first two products from the newly established brand include a mid-size sedan and SUV, though the vehicles aren't completely new as they are actually based on donor platforms from the previous generations of the BMW 5-Series and X5.
There was much, much more in Paris. As always, you'll find our complete coverage on the show over at our dedicated hub.