A new generation of the Hyundai Genesis Coupe is coming, and these are our latest spy shots of an early test mule for the vehicle. Hyundai engineers are using the modified body of the current Genesis Coupe to hide the new car's mechanicals, but a few discernible details tie in with what we already know about the upcoming car.

The new Genesis Coupe, which we're expecting on the market in late 2016, as a 2017 model, will be a larger, grander car than the model it replaces. This is evidenced by the test mule's front bumper support, which stretches right up to leading edge of the current Genesis Coupe's bumper. Things are even more extreme at the rear, with the bumper having to be extended to fit the new car's package in the earlier shots. At present, the track width appears unchanged.

Hyundai has just launched its second-generation Genesis sedan, and it's thought the automaker will use a shortened version of the car's platform for the new Genesis Coupe (a stretched version of the platform will underpin the next-generation Equus). But this time around the Genesis Coupe will be positioned closer to its upmarket sedan counterpart rather than the affordable sporty two-door positioning the current model enjoys.

The transition has already commenced with the 2015 Genesis Coupe, which is now available exclusively with a V-6. By losing its four-cylinder option, the starting price of the 2015 Genesis Coupe has risen to $27,645, which Hyundai says repositions the car with premium performance buyers. This move also helps pave the way for a much more substantial successor.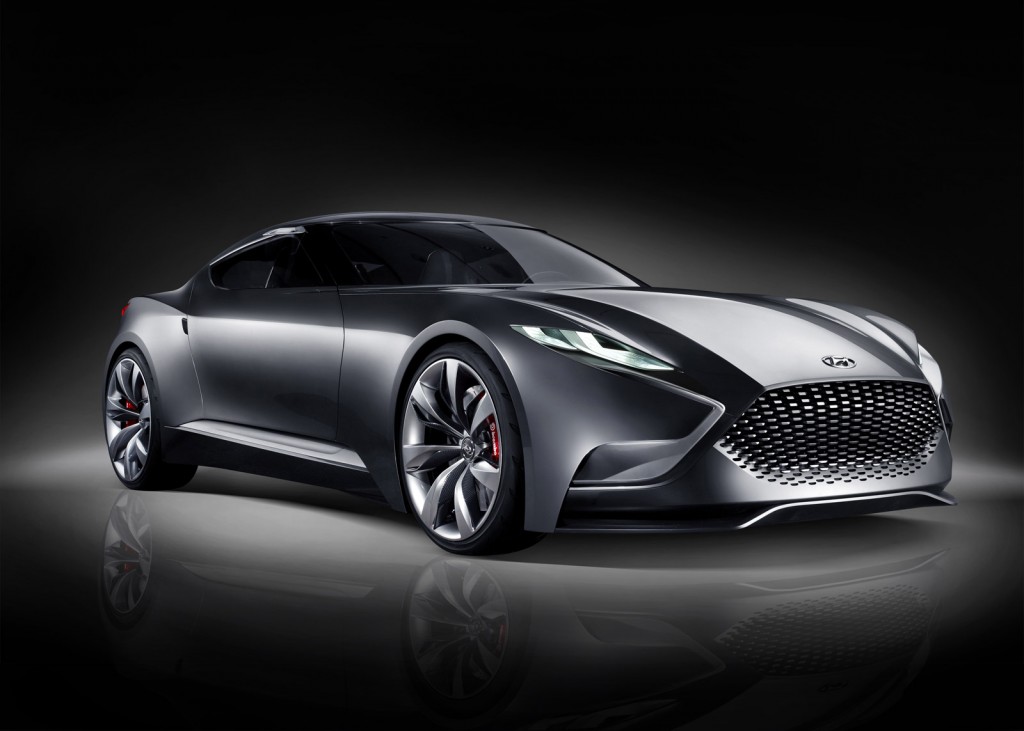 Hyundai HND-9 concept, 2013 Seoul Motor Show

The increase in dimensions will enable the new Genesis Coupe to be a proper four-seater. The car will also get a V-8 option for the first time, giving it the performance edge over potential rivals such as the Audi A5 and BMW 4-Series and perhaps even the strength to match the likes of the Chevrolet Corvette and Nissan GT-R.

The V-8 destined for the new Genesis Coupe will almost certainly be the 5.0-liter V-8 fitted to the Genesis sedan. The engine is currently rated at 420 horsepower, though we could see power lifted for the Genesis Coupe. The standard engine should be Hyundai's 3.8-liter V-6, which is currently rated at 311 horsepower. Drive will go to the rear wheels, though it's likely Hyundai's new HTRAC all-wheel-drive system will be available.

As for styling, Hyundai's stunning HND-9 concept from 2013 likely provides some clues.

Stay tuned for updates as development progresses.

_______________________________________