Mercedes-Benz on Thursday announced plans to establish its own EV charging network spanning many major markets across the globe, including North America.
The automaker made the announcement at the 2023 CES in Las Vegas, where it also said it aims to roll out more than 10,000 chargers by the end of the decade when its full lineup will consist of EVs only.
Construction will start this year in the U.S. and Canada and slowly expand to more countries. More than 400 stations will be in operation in North America by 2027, which combined will have more than 2,500 chargers. The chargers will offer power ratings up to 350 kw.
In North America, Mercedes is working with charging network technology company ChargePoint and solar energy and battery storage company MN8 Energy on the build-out. The involvement of MN8 Energy will help ensure that users have access to renewable energy.
Mercedes and MN8 Energy will together invest approximately $1.05 billion in the construction of the North American stations over the next six to seven years.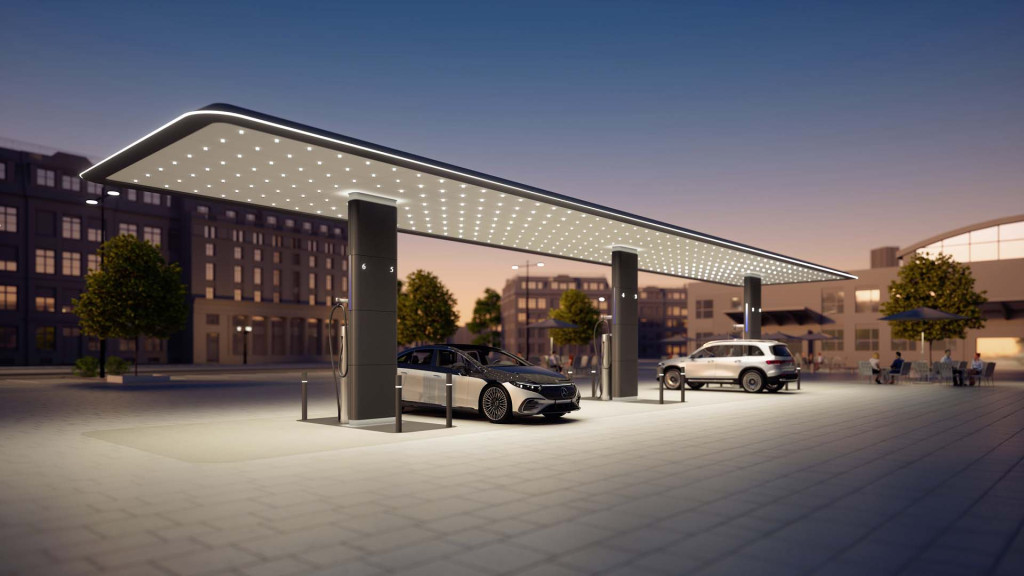 Mercedes-Benz EV charging network
The stations will be located in major cities, as well as near major highway arteries and popular retail and restaurant locations. Chargers will also be installed at participating Mercedes-Benz dealerships. While the stations will be open to EVs from other brands, Mercedes customers will be able to reserve charging slots from their vehicles.
The system will know the usage rates at respective locations and ensure the Mercedes owner gains immediate access to the reserved charger at the required time. The charger will also communicate with the vehicle, so no authentication will be required.
Mercedes is already part of the Ionity joint venture that operates charging stations across Europe, though the new stations will feature the automaker's own branding, similar to Tesla's Supercharger network that was introduced more than a decade ago.
Audi has tested the waters with a handful of its own charging stations in Germany, though the automaker has yet to commit to a global network.