With two feature-packed days of global reveals and over 40 officially scheduled events, this year's Detroit Auto Show, or North American International Auto Show as it's officially labeled, is shaping up to be one of the biggest on record. The first reveals will be coming this weekend during pre-show previews, with the full action getting underway Monday, January 12.

Over 5,000 journalists will be attending, including our own crew, bringing you all the breaking news in addition to live photos and video footage. Here's a quick rundown of what to expect, and don't forget to bookmark our dedicated Detroit Auto Show hub as well as follow us on Facebook and Twitter for all the latest updates.

CONCEPT CARS
2016 Infiniti Q60 concept

2016 Infiniti Q60: Although officially a concept, the Q60 on display in Detroit next week will closely resemble the production version due in showrooms in the fall. The Q60, for those still not up to date with Infiniti's new naming strategy, is essentially the G coupe, whose last complete redesign was back in 2008. As evidenced by the concept, the new Q60 will be a much sexier, much more premium ride. Some kind of V-6 will be plonked under the hood; we're hoping it's the twin-turbocharged 3.0-liter V-6 Infiniti previewed in another concept, the Q80 Inspiration from the 2014 Paris Auto Show.
2010 FIA GT1 Matech Competition Ford GT

Ford GT Successor: Ford hasn't confirmed a new GT for the Detroit Auto Show but the rumor mill has been going wild with details about not only a new GT, but a new GT race car as well. The latter is said to be part of an imminent 24 Hours of Le Mans return for Ford. It would also likely see some action in America's United SportsCar Championship. The Blue Oval is set to launch its new Ford Performance brand in Detroit, and we can't think of a better way than with a new GT supercar.
Volkswagen CrossBlue

Volkswagen Crossover: Another concept for Detroit will be a new five-seat crossover from Volkswagen. The concept is said to be based on the underpinnings of a larger seven-seat crossover the German automaker has confirmed to build at its plant in Chattanooga, Tennessee from late 2016.

Hit the next page to see the performance cars that will be on display at the 2015 Detroit Auto Show, and remember to follow our dedicated show hub for all the latest updates.

2016 Cadillac CTS-V
PERFORMANCE CARS
2016 Cadillac CTS-V: Cadillac's third-generation CTS-V has already been revealed, and we're glad to report that rumors of a 640-horsepower rating have proven true. Yes, the all-new CTS-V is now more powerful than all of its rivals, and it even manages to outgun supercars like the Ferrari 458 Speciale and Lamborghini Huracán. Power comes from the supercharged 6.2-liter LT4 V-8 normally found in the 2015 Chevrolet Corvette Z06 track weapon. The Caddy also gets the Z06's trick eight-speed automatic transmission, which enables 0-60 mph acceleration in 3.7 seconds and a top speed of 200 mph.
Teaser for new Acura NSX debuting at 2015 Detroit Auto Show

2016 Acura NSX: After several concept versions, we're finally being treated to the production version of Acura's new NSX supercar. Some teasers have been released to help build the excitement, and we're glad the car's designers have maintained the edgy, futuristic look of the previous concepts. Power in the new NSX will come from an advanced hybrid drivetrain combining a twin-turbocharged V-6 engine with a dual-clutch transmission and three electric motors, and production of the car will take place in Marysville, Ohio.
2015 BMW M6

2015 BMW M6: An updated version of the BMW 6-Series will debut in Detroit, including the high-performance M6 variant. Unfortunately, there haven't been any upgrades made to the car's various powertrains; in the case of the M6 that means a turbocharged 4.4-liter V-8 remains. Peak output of the M6 is capped at 560 hp in standard trim, rising to 575 hp with the car's available Competition Package. In addition to the coupe you see here, the 2015 M6 also comes in convertible and four-door coupe flavors.
Teaser for new Lexus F performance vehicle debuting at the 2015 Detroit Auto Show

Lexus F Performance Car: Lexus has released two teaser shots for a new performance model it plans to introduce in Detroit. Apart from the teasers, the only official information we have is that the model will be a "track-ready" car destined to sit alongside the RC F in the brand's growing stable of "F brand high-performance models." Word on the street is that the car is the long-rumored GS F.
2015 MINI John Cooper Works Hardtop

2015 MINI John Cooper Works Hardtop: MINI's all-new Hardtop is a lot of fun in Cooper and Cooper S trim but lacking from the lineup is the sporty John Cooper Works variant. It's coming to the Detroit Auto Show, and it'll be packing turbocharged 2.0-liter four-cylinder engine rated at 228 hp. Drive is to the front wheels only, and with an available six-speed automatic the car will sprint to 60 mph from rest in a brief 5.9 seconds.
Ford Performance logo

Ford Performance: Ford isn't just introducing some new performance cars in Detroit; it's also launching a new performance sub-brand similar to Volkswagen's R division and Nissan's NISMO skunkworks. The Ford Performance organization will offer a range of global vehicles in more potent trims, and this includes the arrival of the Ford Focus RS on U.S. shores. It will be joined by the Ford Raptor, Focus ST, Fiesta ST, Mustang Shelby GT350, and a slew of other vehicles including a possible GT supercar.

Hit the next page to see the luxury cars that will be on display at the 2015 Detroit Auto Show, and remember to follow our dedicated show hub for all the latest updates.

2016 Audi Q7
LUXURY CARS
2015 Audi Q7: Audi's second-generation Q7 will be debuting at the Detroit Auto Show. The vehicle is the first to ride on the Volkswagen Group's latest MLB Evo platform, which brings about some serious weight savings for the big SUV. How significant? A substantial 716.5 pounds in some trims. Further efficiency improvements come from the powertrain department. Audi has confirmed that the entry-level option in the U.S. will be a 2.0-liter TFSI rated at 252 hp. It will be joined by two V-6s, a 3.0-liter TDI rated at 272 hp plus a 3.0-liter TFSI rated at 333 hp. Further down the track, Audi will add a diesel-electric plug-in hybrid.
2016 Mercedes-Benz GLE Coupe

2016 Mercedes-Benz GLE Coupe: Mercedes-Benz's rival to the BMW X6 has already been revealed ahead of its world debut in Detroit. 4Matic all-wheel drive is standard on all GLE Coupes, and the standard transmission is Mercedes' new 9Gtronic nine-speed automatic. Inside, the attractive sports seats and steering wheel, plus the infotainment elements familiar from the C-, E- and S-Class models initially catch your eye. The interior is pretty much what we'll be seeing in a facelifted version of the M-Class due out this year as the new GLE.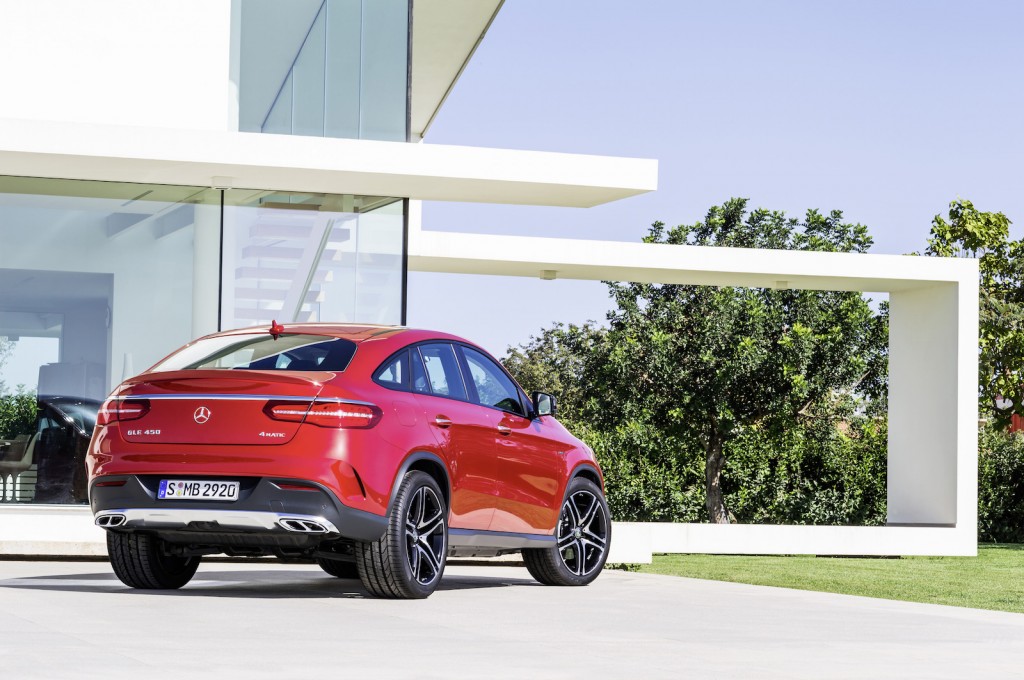 2016 Mercedes-Benz GLE 450 AMG 4Matic

2016 Mercedes-Benz GLE450 AMG 4Matic Coupe: If you like the GLE Coupe but want a bit more sport, then the men and women at Mercedes-AMG have the answer. Launching alongside the regular GLE Coupe in Detroit will be a new 'AMG Sport' version. This isn't a fully-fledged AMG model—that will come a little later—but rather a mid-range model designed to take on similar models from the Audi S Line and BMW M Performance catalogs. Power in this AMG Sport version of the new GLE Coupe will come from a turbocharged 3.0-liter V-6 good for 362 hp.
2016 BMW 6-Series Gran Coupe

2015 BMW 6-Series: The BMW 6-Series has undergone its mid-cycle update but the changes are barely noticeable, which is probably why BMW has chosen to introduce the car midway through the current 2015 model year. The changes affect the entire 6-Series range, which continues to include a coupe, convertible and four-door coupe, plus their respective M6 variants. The most significant update is a bit of extra power for the base 640i variant; its turbocharged 3.0-liter in-line six now rates in at 315 hp instead of the previous model's 300 hp.

Hit the next page for a rundown of some of the other cars appearing at the 2015 Detroit Auto Show, and remember to follow our dedicated show hub for all the latest updates.

Teaser for 2016 Chevrolet Volt
AND THE REST...
2016 Chevrolet Volt Teased Ahead Of Next Week's Detroit Reveal
China's GAC Motor To Present GS4 Crossover At 2015 Detroit Auto Show
2016 Ford Mustang Shelby GT350R In The Works?
2015 North American Car & Truck/Utility Of The Year Finalists Announced

That's it for now, but don't forget that you'll be able to access the latest information from the 2015 Detroit Auto Show at any time via our dedicated hub.
_______________________________________