2009 Frankfurt Auto Show Logo
The 2009 Frankfurt Auto Show is finally upon us and the Motor Authority crew has all the latest direct from the show floor.
With introductions of the Aston Martin Rapide, Ferrari 458 Italia, BMW 5-Series GT and Mercedes-Benz SLS AMG, this year's Frankfurt event is breaking through the auto-industry gloom, if just for a day or two.
Motor Authority is on hand to cover the 2009 Frankfurt Auto Show live, along with the rest of the High Gear Media team. Tune in here for the next couple of days as we add more debuts to the Frankfurt roster--and be sure to switch over to TheCarConnection and GreenCarReports every so often for their take on the new vehicles headed to the U.S. in the coming months.
What are luxury and performance-car fans waiting patiently on from Frankfurt? We're betting it's these new vehicles fresh from Frankfurt Messe:
2009 Frankfurt Auto Show: Coupes and Convertibles
2010 Ferrari 458 Italia
Ferrari 458 Italia: It's the new Ferrari supercar, and befitting the new 458 is a 4.5-liter V-8 that puts out 570 horsepower and 400 pound-feet of torque. Ferrari couples the engine to a seven-speed dual-clutch transmission, and promises it will shuttle the 458 Italia to 60 mph in less than 3.4 seconds. Top speed should reach 202 mph.
2010 Porsche 911 GT3 RS
2010 Porsche 911 GT3 RS: The GT3 RS gets a bored-out 3.8-liter flat six making 450 horsepower. The redline's soared to 8500 rpm, and the more powerful engine's paired with a six-speed manual shifter with shorter ratios than those in the GT3. It sacrifices a little top-end performance for quicker track responses, Porsche says.
The 2009 Lamborghini Reventon Roadster at the 2009 Frankfurt show: fashion show included gratis.
Lamborghini Reventon Roadster: Lamborghini has unveiled the Reventon Roadster just ahead of the Frankfurt Auto Show this week. Fewer than 20 of the supercars will be built, each featuring a 650 horsepower V-12 and a price tag of $1.6 million.
2011 Mercedes-Benz SLS AMG
Mercedes-Benz SLS AMG: It's a new gullwing: the 2011 Mercedes-Benz SLS AMG is a successor to the current Benz SLR roadster and former coupe. The SLS AMG cruises along with power coming from a 6.2-liter V-8, which is expected to produce about 565 horsepower in U.S. specification, along with 479 pound-feet of torque. A seven-speed dual-clutch transmission and rear-wheel drive will deliver that power to the autobahn rather rapidly: the SLS AMG is predicted to hit 60 mph from a standstill in about 3.8 seconds.
2011 Audi R8 Spyder
Audi R8 Spyder: The convertible version of Audi's sportscar shows up with 5.2-liter V-10 power.
2009 Mazda MX-5 Miata Superlight concept at the 2009 Frankfurt auto show
Superlight Mazda MX-5 Miata: A race-minded version of the "Miata" (get over it) shows up in Frankfurt.
2011 Maserati GranCabrio
Maserati GranCabrio: Destined to be one of the star attractions at this year's Frankfurt show, the all-new 2011 Maserati GranCabrio sails in with a thumping 434 horsepower V-8 and looks only a supermodel can match.
2009 Frankfurt Auto Show: New Sedans
2010 Aston Martin Rapide
Aston Martin Rapide: The Aston Martin Rapide is finally ready for the world. Frankfurt crowds may get stuck on its stunning shape; we're keen to hear more about its 470-hp V-12 engine and those "swan-wing" doors Aston's been promising. The child-sized rear seats? Not quite so much.
2010 BMW 5-series Gran Turismo
BMW 5 Series Gran Turismo: The BMW 5-Series GT has yet to see its first civilians and it's already a controversial topic. The rounded roofline grants the first of the new-generation 5-Series cars with lots of room and a flexible rear seating area. It arrives in America later this year with BMW's 4.4-liter twin-turbo V-8, 400 horsepower and a new eight-speed automatic transmission. BMW promises 0-60 mph times of 5.4 seconds and a limited top speed of 130 mph, with a 150-mph top end on vehicles outfitted with a Sport package. There's Active Steering, Dynamic Damping Control, adaptive roll control and Driving Dynamics Control, to tailor the driving experience for different tastes. In back, the seats are raised, and move fore and aft on a track up to 4 inches, as passenger and cargo needs change. The tailgate opens as a conventional trunklid or as a large hatch, making cargo loading easier.
2010 Rolls-Royce Ghost
Rolls-Royce Ghost: The new Ghost, a purported Bentley Continental challenger, will be revealed in Frankfurt. It's sure to look like this 200EX concept on the official R-R Web site. Big V-8 and V-12 engines are in the offing, along with an eight-speed automatic, coupe and convertible body styles.
2011 Bentley Mulsanne
2011 Bentley Mulsanne: Just unveiled at the 2009 Pebble Beach Concours, the 2011 Mulsanne stacks up against Rolls-Royce's Phantom. The Mulsanne gets a new architecture, a new V-8 engine, and probably a $300,000 base price. That's before you order the in-door drink carts, knurled aluminum dash, and dashing quilted seats.
2010 Saab 9-5
2010 Saab 9-5: GM's set to sell the brand to Koenigsegg, which makes the future of Saab uncertain in our eyes. However, they're insisting the 2010 9-5 four-door and wagon are coming. We'll confirm it live, with more info on the change of control.
2009 Frankfurt Auto Show: Wagons and Crossovers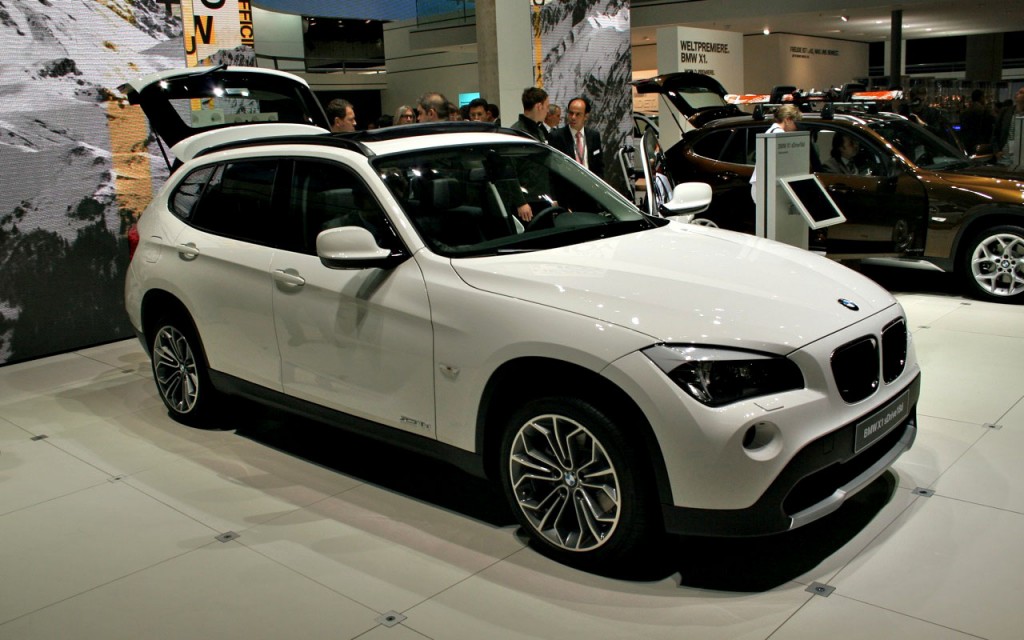 2011 BMW X1
BMW X1: The new crossover is smaller than an X3, pricier than a Honda CR-V, and more adept at social media than lots of auto Web sites we know. We'll take a closer look and maybe drive one around the Frankfurt halls, if we can grab the keys from unsuspecting PR folks.
2011 mercedes benz e class estate official 015
2011 Mercedes-Benz E-Class Wagon: It's returning to America in E350 4Matic form, and with the E-Class Wagon, Mercedes is set to also show off an E-Class Cabriolet coming to America next year.
2009 Frankfurt Auto Show: Concept Cars
2009 Bugatti Galabier 16C Concept leak
Bugatti Galibier 16C Concept: Not yet a final preview of a possible Bugatti super-sedan--and not technically even coming to the Frankfurt show floor--the four-door coupe Galibier 16C Concept is merely a preview of one possibility of the final result. With Porsche Panamera profiling and a somewhat Audi-esque grille, it may be a good thing Bugatti has alternatives in its pocket. On the other hand, aluminum and carbon fiber construction wrapped around a twin-supercharged 800-horsepower W-16 engine and room for four plus luggage is an enticing formula.
2009 BMW Vision EfficientDynamics Concept
BMW Vision EfficientDynamics Concept: At its core, the Vision EfficientDynamics concept is a sportscar in the BMW vein, with promised M-car performance levels. However, it gets there in a completely new way: with a diesel plug-in hybrid powertrain. There's a direct-injection, 1.5-liter, 163-hp, three-cylinder turbodiesel, two electric motors (one per axle), a set of lithium-ion batteries, and a software controller that modulates and marries both powertrains to a combined total of 356 horsepower and 590 pound-feet of torque. The EfficientDynamics concept uses all three in tandem or selectively, alternately driving the rear wheels, front wheels or all four wheels depending on the need and condition. The Vision concept can whip out a 4.8-second 0-60 mph run and carry on to an electronically limited 155 mph top speed - and yet it still delivers a 63 mpg rating.
2009 Lexus LF-Ch concept at the 2009 Frankfurt auto show
Lexus LF-Ch Compact Hybrid Concept: Compact and hybrid are the buzzwords at Lexus, and they lend the hatchback concept that'll be on display there its initials. Offering a competitive alternative to BMW's 1-series and the Audi A3, the LF-Ch gets its power from a gasoline-hybrid drivetrain that continues the Lexus avoidance of diesel. The concept is already tipped for production, but don't expect to see it on the streets before 2012 - and it may not come to the U.S. at all due to pricing issues, instead duking it out with Europe's diesel-powered luxury compacts as an entry-level model.
2009 MINI Coupe and Roadster Concepts
MINI Coupe Concept: Celebrating its ongoing 50th anniversary, MINI has already given a sneak peek at the two-seat, high-performance coupe version of the well-loved Mini Cooper, dubbed the MINI Coupe Concept. Powered by the same 211-horsepower 1.6-liter turbocharged engine found in the John Cooper Works Minis, the Coupe also delivers 192 pound-feet of torque in typical driving, and up to 206 pound-feet under "overboost."Already being considered for production, expect full details, including performance estimates, to be revealed during the show.
2009 MINI Coupe and Roadster Concepts
MINI Roadster Concept: A cute new family is forming at MINI, with the previously revealed Coupe Concept joined by the 2009 MINI Roadster Concept today at the Frankfurt Auto Show. Ready to amp up the lineup, the two-seater twins promise an upgrade to MINI's already solid reputation for fun.
2009 Frankfurt Auto Show: Green Cars
2010 BMW 7-Series ActiveHybrid
BMW ActiveHybrid 7: No longer a concept, BMW is presenting the production version of its gasoline-electric hybrid 7-Series, which is set to go on sale in Spring next year in both standard and long-wheelbase versions. Official EPA ratings will be available closer to market launch but initial estimates put it at 15% better than the similarly powerful 750i.
2009 Audi e-tron Concept at the 2009 Frankfurt auto show
Audi R8 e-Tron: Audi's foray into the electric car arena takes supercar form with one of the best-handling and most attractive platforms in the group as its basis. Official details are finally out, including the car's monstrous 3,300 pound-feet of torque, and the photos reveal a futuristic, but still very R8-looking electric car. And sorry, despite the name, there are no light cycles in the trunk.
2010 Volkswagen Passat BlueMotion
Volkswagen Passat BlueMotion: One of those cars we can only dream of--for now—the 2010 Volkswagen Passat BlueMotion offers generous seating for five adults yet promises a hybrid-like fuel economy of 54 mpg from its advanced 1.6-liter common rail diesel engine. Joining the Passat in Frankfurt will be the BlueMotion versions of the Golf and Polo hatchbacks as well.
2009 Mercedes-Benz Vision S500 Plug-In Hybrid Concept
Mercedes-Benz Vision S500: 73.5 mpg in an S-Class sedan. Enough said. The Vision S500 Plug-In Hybrid gives us an early look at just one ecological powertrain Mercedes-Benz has planned for the near future.
2009 Frankfurt Auto Show: More Headlines
Porsche Announces Research Into Electric Sports Car
2011 BMW X1 Makes Public Debut
Frankfurt Live: Wiesmann Roadster MF5
BMW Vision EfficientDynamics Concept Live At Frankfurt
2010 Aston Martin Rapide Debuts At Frankfurt Auto Show
2010 Rolls-Royce Ghost Preview 
Frankfurt Roadster Roundup: Live Shots Of The Show's Hottest Drop-tops
Gallery: Audi R8 e-Tron And Spyder Live From Frankfurt
Live Photos: 2010 Mercedes-Benz SLS AMG
Electric Mercedes-Benz SLS AMG Coming In 2013
Mercedes-Benz Unveils E63 AMG Estate
2010 Volkswagen Golf R Unveiled 
2009 MINI Roadster Concept Revealed at Frankfurt Auto Show
2010 BMW X6 ActiveHybrid Preview
Lamborghini Reventon Roadster Revealed
Video: Bugatti Galibier 16C Concept Previews Possible Super Sedan
2010 Koenigsegg CCXR Trevita: Diamond Weave Carbon Fiber Special
2009 Mazda MX-5 Superlight Concept Leaked
Mercedes-Benz Unveils Vision S500 Plug-In Hybrid Concept
Video: 2010 Mercedes-Benz SLS AMG Preview
Bentley Prepping Series 51 Continental For Frankfurt
Four World Premieres For Porsche At The 2009 Frankfurt Auto Show
2009 Lexus LF-Ch Compact Hybrid Concept Official Details
2010 Audi R8 Spyder Breaks Cover
Canada's HTT Plèthore LC-750 Supercar En Route To Frankfurt
Preview: 2011 Maserati GranCabrio
Brabus Bringing 750HP Mercedes Benz S-Class to Frankfurt Auto Show
BMW Unveils Limited Edition M6 Competition
New Video And Images Of Limited Edition Porsche 911 Sport Classic
2010 Rolls-Royce Ghost Preview
Across The Pond: 2010 Volkswagen Passat BlueMotion Promises 54 MPG
BMW Vision EfficientDynamics Concept: Official Details
Mercedes-Benz E-Class Estate wagon official details, E350 4matic only U.S.-bound model
Peugeot releases more details for new RCZ sports coupe
Sporty R-Design XC60 joins 2010 Volvo lineup
Audi releases more images for 2010 A5 Sportback
Preview: 2011 BMW ActiveHybrid 7
Audi 'e-tron' Teaser Image Appears On Electricity Untamed Website
Mercedes officially reveals development of electric SLS AMG supercar
First look at facelifted 2010 Porsche 911 Turbo
2009 Frankfurt Auto Show: Stay Updated
Bookmarks: Follow our Frankfurt Auto Show tag and this 2009 Frankfurt Auto Show page for updates
Subscribe to our High Gear Media RSS feed on your browser or by email--or, get RSS feeds for TheCarConnection, MotorAuthority and GreenCarReports separately
Facebook: High Gear Media, TheCarConnection
YouTube: HighGearMediaVideos

Twitter: @CarConnection, @TheRealMA, @GreenCarReports, @HighGearMedia
--------------------------------
Write your own car blog at High Gear Media! Sign up to write and tell car enthusiasts and shoppers what you think about your vehicle or today's car news and get published to High Gear Media sites like AllSmallCars, LexusReports, FamilyCarGuide and more!