UPDATE: The prototype is for a Subaru BRZ tS performance package, which previews some new 'tuned by STI' performance parts for the Subaru sports car.
Even before the Subaru BRZ made its debut at the 2011 Tokyo Motor Show, we were given a taste of what the people over at Subaru Tecnica International (STI), Subaru's go-fast division, were planning for the car thanks to their unique BRZ Concept - STI.
Then, at the 2012 Australian Motor Show just last month, Subaru unveiled another BRZ concept, this time fitted with a number of performance accessories developed by STI that were promised to be on sale in the near future.
Combine this with the numerous reports of an STI-tuned BRZ that have come to light over the past year, and it's clear a Subaru BRZ STI model is coming. Now, we have the first spy shots of what's likely to be a prototype for just that model.  
Sent in by reader Daniel, who happened to come across this prototype testing at the Nürburgring recently, the shots show an undisguised BRZ wearing a number of elements borrowed from both previous BRZ-based STI concepts.
From the first concept comes an oversized rear wing, and from the second is STI's new body kit for the BRZ consisting of a front spoiler, side sills and rear diffuser. The latest prototype also wears the second concept's 17-inch light alloy wheels, and it looks to be sitting slightly lower than the regular BRZ, suggesting the suspension has been upgraded.
2013 Subaru BRZ fitted with STI upgrades

As for powertrain mods, it's impossible to tell from these initial shots. The exhaust tips on this prototype appear to be slightly larger than the units on the regular BRZ, which suggests better flow.

Subaru has also developed a turbocharged version of the BRZ's 2.0-liter flat-four, complete with the automaker's own direct-injection system rather than the Toyota system normally used. However, Subie's signature turbo hood scoop is missing on this prototype so it may still be naturally aspirated.

A series of weight-saving mods is likely to have been utilized, which, unlike a turbo, is in keeping with the BRZ's puristic sports car philosophy.

We'll just have to wait until more details surface before we can be certain what STI has planned for the BRZ, but the good news is that wait may not be very long. Automakers tend to run their prototypes sans camouflage gear when the vehicle is about to be revealed, so it's likely we'll be seeing the new Subaru BRZ STI unveiled within the coming months, possibly at the upcoming L.A. or Detroit auto shows.

Stay tuned for updates in the meantime.  You can also see The Car Connection for more info on the Subaru BRZ.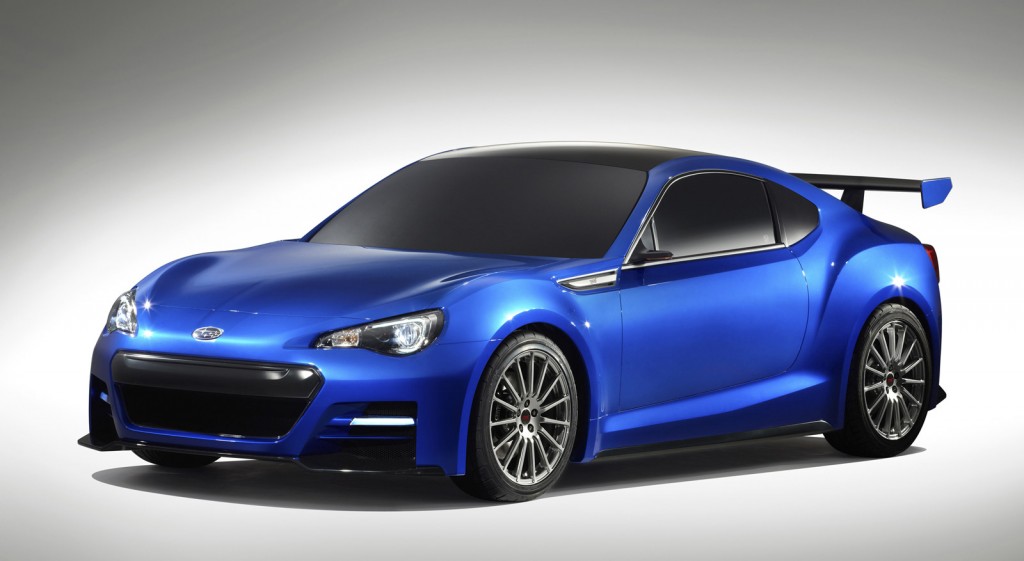 2011 Subaru BRZ Concept - STI