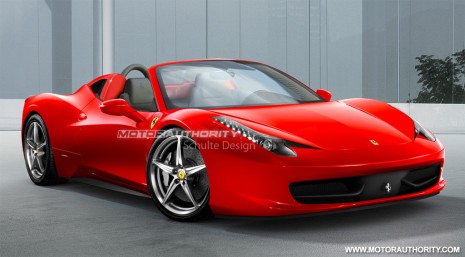 2011 Ferrari 458 Italia Spider
Talk surrounding the open-top version of Ferrari's new 458 Italia has long hinted at a folding hardtop solution, unlike the cloth top of its predecessor, the F430 Spider. We've even seen spy shots of the folding hardtop in testing on an F430 mule as far back as 2008.
Since then, the presence of a hardtop has been a continued point of interest, and more rumors percolated as fan forums debated whether the 458 should stick with the cloth or go metal.
The latest on the matter comes by way of the U.K., with PistonHeads reporting that not only will the 458 Spider get a folding hardtop, but it will be unique in its operation. Unfortunately, the word is that the new hardtop will obscure the beautiful 4.5-liter, 570-horsepower V-8 engine that's visible through a clear cover on the coupe.
Still on the table is the hardtop's material: it could be a conventional painted metal job, or it could possibly be glass. Either way, the folding hardtop is likely to add weight to the 458--we just hope it's not so significant as to hobble the car's nimble handling and razor-sharp performance--though chopping the roof and adding the requisite bracing may do that anyway.
[PistonHeads via AutoGuide]