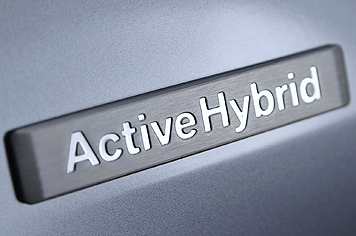 BMW ActiveHybrid logo
Unlike the mainstream market where hybrid technology is used to maximize fuel efficiency, luxury automakers have employed hybrid systems as a way to maintain or improve performance while making concessions to efficiency.
The upcoming 2010 ActiveHybrid X6 and 2011 ActiveHybrid 7 from BMW are prime examples of this philosophy, combining already powerful V-8 engines with electric motors for added performance and superior fuel economy to comparable non-hybrid models.
The 2010 ActiveHybrid X6, for example, is no wimp when it comes to performance, sprinting to 60 mph from rest in just 5.6 seconds and on to an electronically limited top speed of 130 mph. And it does it all while returning a fuel economy of 22.8 mpg in the combined cycle, about 20% better than the standard V-8's ratings.
This raises questions such as why a luxury automaker like BMW is focusing so much on the eco-friendly technology and what kind of hybrid vehicles can we expect in the near future?
Speaking with Autocar, the project leader of the 2010 BMW ActiveHybrid X6, Peter Tuennermann, explained that electrification will play an ever increasing role in personal mobility in the future--especially in the face of tougher emission regulations--and that hybrid vehicles are just a stepping stone towards this electrified automotive future.
Tuennermann went on to reveal that volume models like the 3-, 5- and 7-series were more suited to mild hybrid systems like the one in the ActiveHybrid 7 where the electric motor only aids the internal combustion engine and cannot actually power the vehicle by itself, and that larger and heavier models like the X3, X5 and X6 were better suited to a full hybrid solution.
The BMW exec wasn't willing to reveal what model will be BMW's next hybrid but he did mention that it would be launched within the next 12 months. He also confirmed that research on diesel-electric hybrid powertrains was taking place and that such a design would most likely be in the form of a range-extending plug-in hybrid vehicle.
[Autocar]