The long-awaited arrival of the 2024 Volkswagen ID.Buzz in the U.S. is edging closer with the recent sighting of a prototype for the long-wheelbase version bound for these shores later this year.
The electric van, which many are calling the spiritual successor to VW's iconic Microbus, has been on sale in Europe since last fall, though the only version available is the standard-wheelbase model that measures just 185.5 inches in length, or about 1.5 inches shorter than Tesla's Model Y compact crossover.
The U.S. will get as standard this long-wheelbase version, which is expected to have an extra 10 inches between the wheels. This is evidenced by the prototype's sliding rear door, which is clearly longer than on the standard-wheelbase model.
While the standard-wheelbase model only has two rows of seats, the long-wheelbase version will accommodate a three-row, seven-seat configuration. The long-wheelbase version is also expected to spawn a commercial van option in some markets, offering more than 137 cubic feet of hauling space with a fixed partition behind the front seats. The setup was previewed by 2018's ID.Buzz Cargo concept. Also in the works is a California camper version.
Volkswagen ID.Buzz (Euro spec)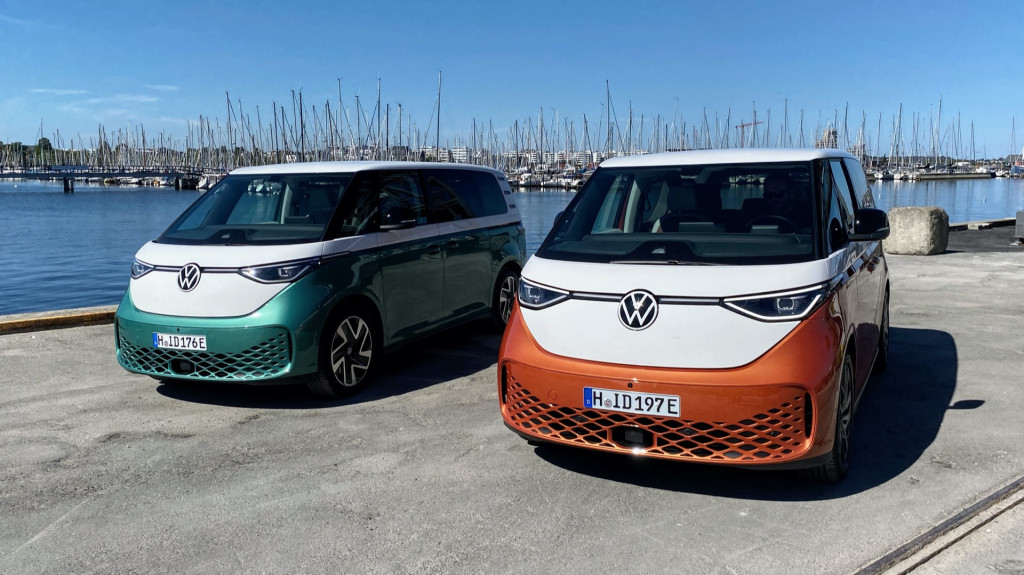 Volkswagen ID.Buzz (Euro spec)
Volkswagen ID.Buzz (Euro spec)
Underpinning the ID.Buzz is the flexible MEB dedicated EV platform already found in multiple Volkswagen Group vehicles, including VW's ID.4 already in U.S. showrooms. While the biggest battery at present is an 82-kwh unit, the long-wheelbase body being tested here will accommodate a battery with a 111-kwh capacity. Such a capacity should enable a range approaching 300 miles on a charge.
Production of the ID.Buzz is handled exclusively at VW's plant in Hannover, Germany. This is the same plant where VW builds its T-series line of vans sold overseas. The T-series is actually the direct successor to the original Microbus and entered its seventh-generation in 2021. There have been reports that VW is considering adding ID.Buzz production in the U.S. The automaker already builds the ID.4 at its plant in Chattanooga, Tennessee.