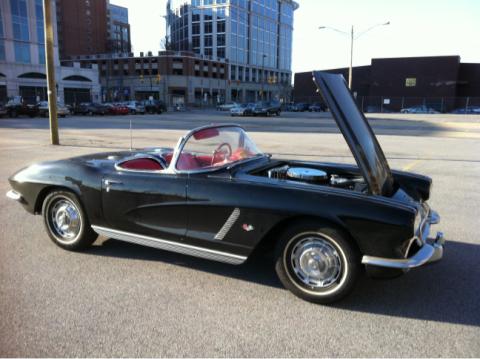 Duff Goldman's 1962 Chevrolet Corvette
Duff Goldman is a pastry chef, reality show star, and auto enthusiast. Now, he can add one more descriptor to his resume: car theft victim.
Goldman parked his prized 1962 Chevrolet Corvette at his brother's house in Sherman Oaks, California before zipping out of town to judge a cake competition in Canada. By the time he got back, the vintage ride -- complete with a brand new rebuilt engine -- was gone.
Goldman seems resigned to the fact that the car may be gone for good, telling the LA Times, "I'm pretty sure I'll never get my car back." We'd think that a spiffy looking vintage Corvette with a screaming red leather interior would be pretty conspicuous -- but then, things are different in LA.
If, however, some eagle-eyed neighborhood watchman does see Goldman's ride and helps return it, the chef has offered a super-sweet deal: a lifetime supply of birthday cakes.
If we had to guess, we might start poking around Rick Springfield's house -- after all, he could be squirreling away backups to replace his 1962 'Vette if/when he has his next DUI event. Or maybe fellow reality show personality Tabatha Coffey swiped it. Rumor has it that she's taking over.
But our best guess is that someone somewhere is starting a museum of cars owned by celebrity chefs. Guy Fieri and now Goldman? That can't be coincidence, can it?