Star Wars Speeder Bike Spotted On The Streets Of Palo Alto
It's not everyday that you're walking along the streets of town and you spot a Batman speeder bike, but that's just what happened to our own Jeff Birkeland, on University Avenue in Palo Alto, California, this afternoon. The speeding superhero was apparently in need of some caffeination, as the bike was spotted in front of Starbucks.
While we don't know anything about the bike itself, it appears to be a completely custom job, complete with bodywork, faux-missiles, and an elongated wheelbase with a lay-down riding position to better emulate its nerdy roots. It's patterned after the Batpod, something the Caped Crusader drove in the last couple of movies and obviously passed down to a civilian while taking a vacation under a bridge in Austin, we think.
Inside that black helmet, we can't identify the rider, but there's more than one celebrity with a known penchant for riding unique bits of two-wheeled speed, including Brad Pitt. Hey, wait, has anyone seen Steve Jobs today?
[Pics by Jeff and MLive]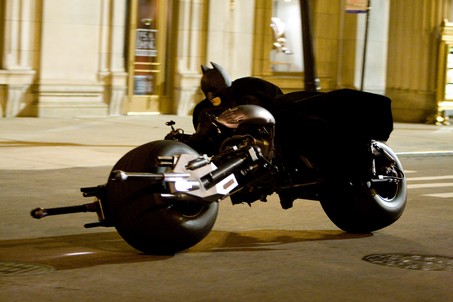 Batman Batpod