The 2024 Chevrolet Silverado EV will launch this spring with the highest range estimate in its class and one of the highest of any electric vehicle on the market.
Chevy on Friday said the full-size Silverado EV in Work Truck guise received an EPA range estimate of 450 miles, or 50 more than what the automaker announced at the electric truck's reveal during 2022 CES.
The figure is substantially higher than the rival F-150 Lightning's maximum range estimate of 320 miles, and also outmatches the Rivian R1T whose range estimate taps out at 328 miles. Chevy said the better than anticipated result was made possible by extensive development and testing over the past several months.
Only the Silverado EV WT will launch this spring. The lifestyle-oriented Silverado EV RST will launch this fall, in special First Edition guise. Chevy has previously said around 95% of reservations are for the RST. An off-road-focused Silverado EV Trail Boss is also planned.
2024 Chevrolet Silverado EV Trail Boss
The 450-mile range estimate is with a 200-kwh battery that is also capable of charging at up to 350 kw, enabling 100 miles of range to be added with just 10 minutes of charging when using a DC fast charger, according to Chevy.
Soon after launch, the Silverado EV WT will be offered with a smaller battery that Chevy predicts will have an EPA range estimate of 350 miles.
2024 Chevrolet Silverado EV
Chevy said at the Silverado EV's reveal that pricing for the electric truck would start at $39,900, plus destination. However, it isn't clear what version will feature this pricing.
The RST version will be priced from $105,000, plus destination. It will offer 664 hp, and the ability to sprint from 0-60 mph in 4.5 seconds. It will also tow up to 10,000 pounds and carry 1,300 pounds of payload. The WT will have 510 hp, a maximum tow rating of 8,000 pounds, and a maximum payload of 1,200 pounds. Chevy said there will eventually be a WT version with a maximum tow rating of 20,000 pounds.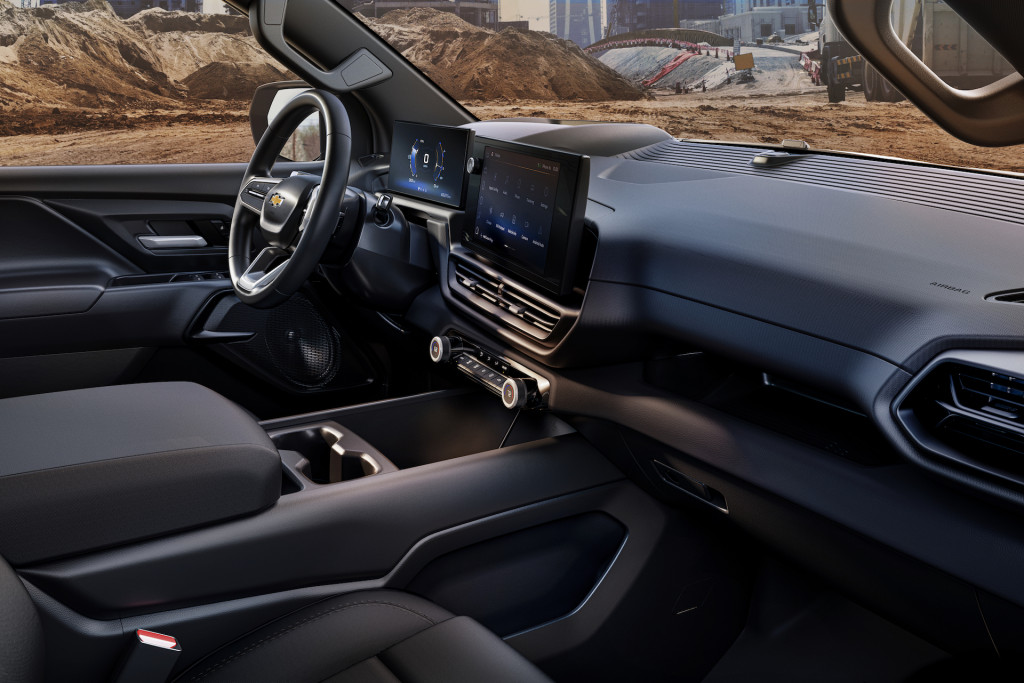 2024 Chevrolet Silverado EV
2024 Chevrolet Silverado EV
2024 Chevrolet Silverado EV
Underpinning the Silverado EV is General Motors' Ultium EV platform and battery set found in vehicles like the GMC Hummer EV and Cadillac Lyriq. At 233 inches in length, the truck is about an inch longer than a Silverado 1500 with a crew cab and short bed. A frunk is featured up front, while opting for a Multi-Flex tailgate will let owners fit items as long as 10 feet in the bed.
Production will take place at GM's Orion Assembly plant in Orion Township, Michigan. It's where GMC will build its related Sierra EV.