Number 45 has been retired by the Boston Red Sox since 2015. It was the number worn by one of the greatest pitchers in Major League Baseball history, Pedro Martinez. The slim, 5-11, 170-pound Dominican had electric stuff. His career ERA? 2.93. He still holds the third-highest strikeout-to-walk ratio in modern baseball history, he put fewer runners on base per innings pitched than anyone in the live ball era, and owns all sorts of other pitching stats that would make Bill James bow down at his feet.
Pedro was a tremendous pitcher, and now he's also a tremendous supporter of his own charity.
Martinez has started an organization simply called the Pedro Martinez Charity. The goal is to help children in the Dominican Republic by providing food, education, job training, sports activities, and even family therapy. Simply put, Pedro is giving back to his native land. He's doing so now by parting with a 2003 Aston Martin Vanquish Volante.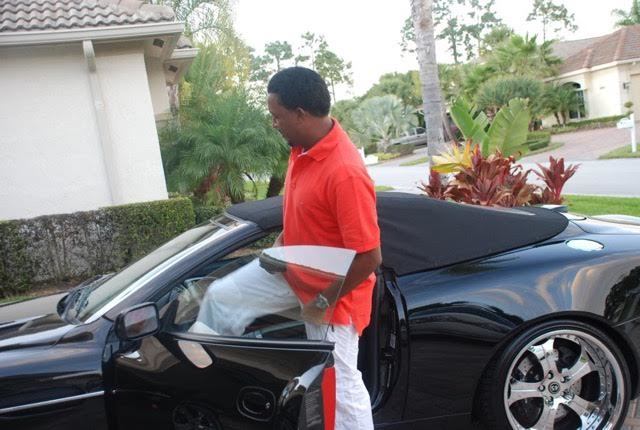 Pedro Martinez is selling his 2003 Aston Martin Vanquish Volante for charity
The car has been given to the charity for the purposes of raising money. It's being offered through the CharityBuzz website, and the bidding (as of the time of this writing) is up to $50,005. The website listing the car estimates the value at $75,000, which is actually just a bit high for an '03 Vanquish with over 18,000 miles on its odometer.
Pedro customized the car a bit, choosing Red Sox red leather for the bucket seats, headrests, and interior side panels, and installing custom Pedro Martinez 45 wheels.
The winning bidder will also get to meet Pedro. It doesn't have to happen right when the transaction is finalized, but a time and place can be determined for the get together to occur. According to the auction listing, the duration of the meeting will be at least 30 minutes.
Now, this auction won't be quite as appealing to New York Yankee fans, but 16 folks have already placed bids on the car, and the proceeds clearly go to a deserving charity. Additionally, you wind up with a V-12-powered convertible in your garage. Granted, it's saddled with the older 6-speed automated manual gearbox and some unflattering aftermarket custom wheels, but it's still an Aston Martin.
Okay...so it's not Aston's best effort. Just focus on the charity here, and the chance to meet a true Hall of Famer.
_______________________________________