Datsun 810

Everybody loves the old Z cars, but what about the Malaise Era Datsun sedan and wagon with an extremely Z-ish engine and chassis?

You still see the occasional 1981-84 "810 Maxima" on the street these days, sporting the confusing "Datsun by Nissan" badging of the era, but I'm talking about the 1977-80 810s here.

I haven't seen an 810, in or out of the junkyard, for at least a decade.
Datsun 810
Sure, a very nice '78 810 wagon took Hooniverse Wagon Wednesday honors last year, but this car may well be one of the only 810 survivors left in the country.

Anyway, wagons like this have managed to achieve a modicum of cool, if only for the same nostalgia-laced reasons that Freakies cereal now seems cool.

I'd like an 810 wagon, sure, but what I really want is an 810 coupe. It's a homely, odd-looking machine, with approximately 0.04% of the build quality of the Nissans that came a decade later, and its 120-horsepower 2.4-liter six didn't get its 2,800 pounds moving very quickly... but it's a weird Japanese sporty car that nobody bought, and I'd be proud to drive one. I wouldn't even wear a paper bag over my head while doing so.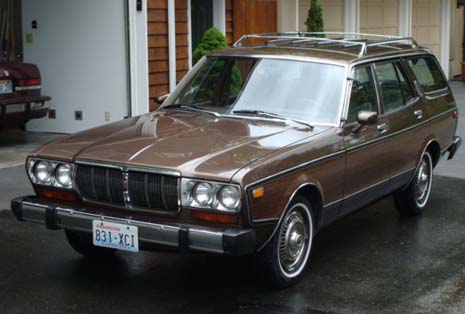 Datsun 810

But damn that grille is hideous! Endearingly so, by my no-doubt-twisted reckoning.

By the time Nissan was building these things, the US-market Z car had the L28 engine and the 810 got the smaller L24 out of the earlier 240Z.

It would be fun to drop the 180-horse L28ET out of a Late Malaise 280ZX Turbo into an 810 hardtop coupe. Someday...