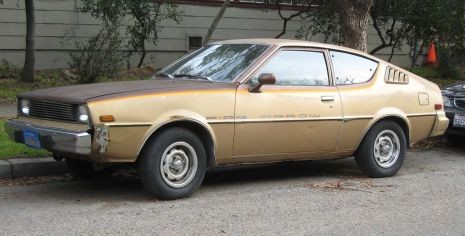 1980 Plymouth Fire Arrow
I really wanted to go back to Japan for this week's Guilty Pleasure, preferably a Mitsubishi product (say, the Diamante station wagon). After the Simca-derived Plymouth Turismo Duster last week, I couldn't resist going with another Chrysler captive import for our Japanese excursion. What do you get when you slap tape stripes and Plymouth badges on a Mitsubishi Celeste?
Plymouth Fire Arrow
You get the Plymouth Fire Arrow, a rear-drive coupe with Japanese science-fiction styling and a 2.6 liter Astron under the hood (yes, that's an Arrow GT, not a Fire Arrow, but I had to include a shot of The Snake with his Arrow). As always, Allpar has the full story on this Mitsu-Chrysler product.
Plymouth Fire Arrow
Ever since I found an '80 Fire Arrow on the Island That Time Forgot, I've been looking for a clean Fire Arrow for my personal fleet. That big four-banger put out just 105 horsepower, which doesn't sound like much until you consider that the most powerful Camaro in 1980 came with just 190 horsepower... and scaled in at 1,400 additional pounds. So swallow a handful of Rorer 714s, don your finest polyester threads, and hop in the Fire Arrow for a trip back to the heart of the Malaise Era!