We're finally at the end of our long journey looking into every facet of the 2014 Jaguar F-Type, from the stunning sports car's heritage to its design, specification and engineering.

In this final installment of our 30 Days of the 2014 Jaguar F-Type coverage, we look at what the future holds for the car.

So, just what does that future entail?

The most logical next step is the launch of an F-Type Coupe, something that's been mooted ever since the reveal of the F-Type-previewing C-X16 concept car at the 2011 Frankfurt Auto Show, which itself was a coupe.

However, the biggest giveaway that the launch of an F-Type Coupe is imminent is the recent reveal of new patent drawings for just such a car.  

In addition to the coupe, we're also likely to see the F-Type's engine lineup expanded--in both directions. At the entry level, expect to see a turbocharged 2.0-liter four-cylinder join the fold while at the other end of the spectrum we should see a more potent version--or versions--of the F-Type V8 S' supercharged 5.0-liter V-8.

Our sources tell us Jaguar is planning a life cycle for its F-Type similar to that of its other models. This means you can expect a shelf life of between eight and ten years, with a facelift coming midway and additional 'R' and perhaps even 'R-S' performance models also released along the way.   

Given the increasing popularity of vehicle personalization, Jaguar is also likely to launch some F-Type special editions developed by its Engineered To Order (ETO) division.

Finally, motorsport participation is almost certain. It's not clear yet what motorsport categories racing versions of the F-Type will be designed for, though we wouldn't be surprised if Jaguar starts off in lower tier formats before progressing to something like GT3 racing.

The good news is that any F-Type race car will likely spawn a road-going version along the lines of XKR-S GT or the 911 GT3 from the Porsche camp. Once again it will be the ETO division that will be responsible for this hardcore F-Type variant.

It certainly appears that Jaguar F-Type fans have a lot to look forward to.

That's it for now, but you can be sure we'll be bringing you plenty of updates on the F-Type, including news on the aforementioned future variants.

And just in case your thirst for F-Type info hasn't been quenched, check out the full review of the car over at The Car Connection, and don't forget to look back over our 30 Days Of F-Type coverage as well as our own First Drive report.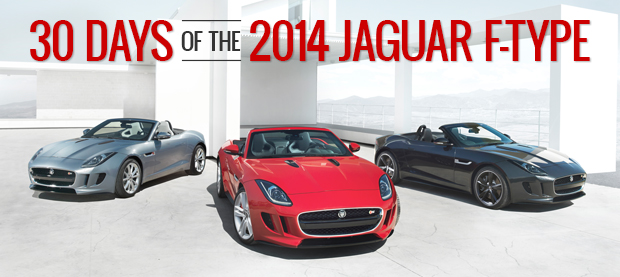 30 Days of the 2014 Jaguar F-Type