Welcome back to the Guilty Pleasures series, a weekly journey into the land of cars we shouldn't, yet do want. The ideal Guilty Pleasure car sold for a bundle when new, failed miserably in the showrooms, and only gets discussed later— if it is remembered at all— in semi-mocking tones. The Buick Reatta, a fancy two-seater built for the 1988 through 1991 model years, qualifies on all fronts.
Guilty Pleasure Buick Reatta
The Reatta was based on a cut-down version of the GM E Body chassis, shared by the Riviera, and powered by Buick's venerable 3.8 liter pushrod V6. Not exactly the two ingredients you'd choose when cooking up a BMW-beating sports car, particularly when you don't have an acceptable manual transmission to bolt to the engine... which also failed to measure up to the mighty power numbers of the turbocharged version used in the Buick Grand National of a few years earlier. Given the, well, maturity of the typical Buick buyer at the time, however, The General's marketing corps figured they'd be able to get away with the not-so-upscale running gear as long as the luxury was there. And, damn, the Reatta really was luxurious!
The cars were handbuilt by Buick's best workers, and we must assume that the Mickey's Big Mouths were rationed much more strictly than on, say, the Cavalier line. Reatta buyers, who had to fork over $25,000 for a new '88 model (about the same as a new BMW 325i or Acura Legend), also got the Electronic Control Center, a touchscreen digital instrument panel that looked like something off the Space Shuttle and excelled at confounding nonagenarian Buick purchasers.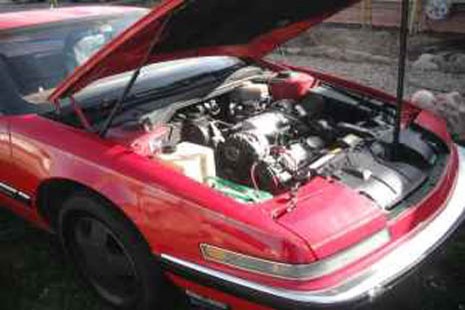 Guilty Pleasure Buick Reatta
Needless to say, I really want a Reatta, and I've also been hounding 24 Hours of LeMons racers to ditch their RX-7s, Mustangs, and E30s and start running this fine two-seater Buick instead. Yes, you can find a running Reatta for less than the LeMons-mandated $500 limit; for example, you can get this one in trade for a pair of Air Jordans, or this much nicer one for a mere grand. Unlike the Chrysler TC By Maserati (a future Guilty Pleasures honoree), sellers of Reattas aren't burdened by hallucinations that their cars are worth five-figure amounts, so you can pick up a pretty good Reatta for the kind of price you'd pay for a beater 10-year-old Sentra.
Guilty Pleasure Custom Buick Reatta
Of course, I might want to forget about getting Grandpa's dead-stock Reatta and pick up this beautifully customized '89 for $4,500. Why didn't GM offer that interior as an option?