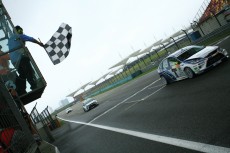 Ford Focus Touring Cars
Ford Focus Touring Cars
The 2011 Ford Fiesta is going rallying factory-style with the R2 Package unveiled yesterday, and now its slightly bigger brother, the 2011 Focus, is getting similar treatment--but this time on the pavement. The Focus will be the base of Ford's global touring car racing program, with the British Touring Car Championship leading the way.
If you're not familiar with BTCC or World Touring Car Championship (WTCC) action, you should be. It's some of the most raucous, hotly-contested, fender-to-fender action you'll find on four wheels. So picking the Focus to enter the highly competitive touring car world means Ford has a lot of faith in the platform.
Even better, we can expect the lessons learned working with private race teams to directly benefit the production Focus ST, which we Yanks will finally be getting next year.
"Ford's commitment to using motorsports to influence high-performance vehicles will be highly evident, as the development of the Focus touring car will benefit the upcoming Focus ST production car," said Jost Capito, Ford's director of global performance vehicles and motorsports development. "It's very similar to how the Mustang team was able to apply learnings from the Ford Racing Boss 302R to the 2012 Mustang Boss 302."
So what do we know the Focus ST will include? So far, Ford is confirming only that it will get a 2.0-liter EcoBoost engine, a lowered chassis, performance brake, and unique suspension tuning, along with a standard six-speed manual transmission "optimized with sporting ratios."
[Ford]