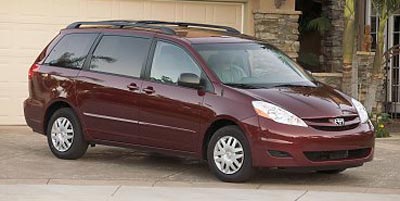 2008 Toyota Sienna CE
The picture we're linking to represents an apotheosis of sorts: something that the staff of CelebsAndCars have been anticipating for a long, long time.
See that lady with the fake breasts, lips, and hair color? That's Nadya Suleman. She wasn't content with the uterus she'd grown up with, so she had a clown car installed. Now, she's better known as the Octomom.
Which makes that 2008 Toyota Sienna, the Octopussy Wagon.
We know, we know. But c'mon, dude: you totally smiled, right?
On a more serious note: being aligned with Suleman is probably not the kind of publicity Toyota needs right now. Yeesh.